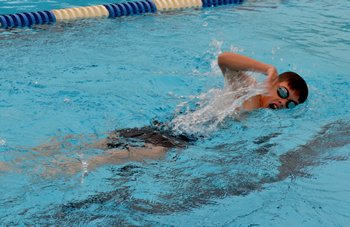 2021 Swim Lesson Update:

Can I sign up for Swim Team? Registration is open now through April 30 for residents and nonresidents. Due to limited space and distancing, the Junior and Mini Makos teams are not offered in 2021. The swim team webpage is at this link: https://www.montgomeryohio.org/montgomery-makos-swim-team/.

Will swim lessons be offered? Due to space and distancing reasons, group swim lessons will not be offered in 2021.

Private lessons will be offered. Private swim lesson forms will be available at the pool when the pool opens and those interested may complete a request form and return to the pool front desk. Staff will then contact you to discuss. Private swim lessons days and times are arranged between the instructor and the family.

---

General Information:

Kids can learn the lifelong skill and experience the joy of swimming!

Group lessons consist of 8 half hour classes, Monday through Thursday during a two-week period.
$50 per session.  No refunds will be given once the first class begins and there is a $25 cancellation fee at all times.
Minimum of 2 students per class required and a maximum of 4 students. It is our goal to put every child into lessons. If you are on the waitlist, the Swim Lesson Coordinator will contact you with options if it is possible to get your child into lessons.
Trained SwimSafe Pool Management instructors
Make up days: Make up days will be scheduled on Fridays when home swim team meets are held. Pool manager may elect to have a "safety day" where swim lesson instructors will teach pool safety to participants during the scheduled lesson time due to weather conditions.
Inclement Weather: Text COM01 to 84483 to opt into RainedOut notifications. If thunder or lightning is in our area within 15 minutes before the start of class the lesson will be canceled. Please note that classes will not be canceled more than 30 minutes prior to start. When possible, a make-up class may be offered.