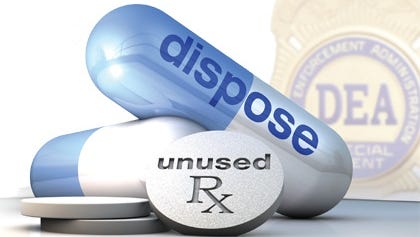 The Drug Enforcement Administration (DEA) is again sponsoring a national campaign to remove expired, unused, or unwanted controlled substances from home medicine cabinets.  Montgomery Police partnering with the DEA will provide a venue for Montgomery residents who want to dispose of unwanted prescription drugs. This is a great opportunity for those who may have missed the previous events or have subsequently accumulated more unwanted, unused prescription drugs to dispose of them in a controlled manner safely.
When: Saturday, April 24, 2021
Time: 10:00 am – 2:00 pm
Where: Montgomery Municipal Pool Parking Lot, 10150 Montgomery Rd
This is a free service, and drop-offs are anonymous. Tablets, capsules, and all other solid dosage forms will be collected.  Intravenous solutions, injectables, and syringes will NOT be accepted.
"We encourage residents to take advantage of the National Prescription Drug Take-Back Event and address a vital public safety and public health issue. Residents can help us remove a potential source of controlled substances known to be abused.  According to the Partnership for a Drug-Free America, every day, on average, 2,500 teens abuse prescription drugs.  A majority of those drugs are obtained from family, friends, and the home medicine cabinet," explains Montgomery Police Sergeant Mike Plaatje.